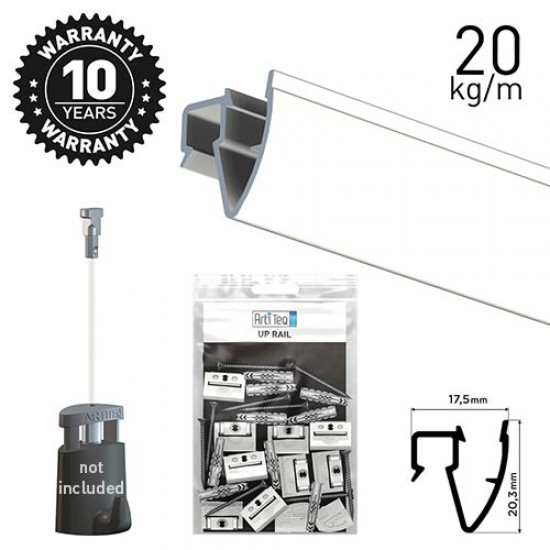 -10 %
Artiteq Up Rail White Primer 200cm Kit
Stock:

In Stock

SKU:

05.06200K

EAN:

8714946050334

● Ceiling-Mounted Hanging System
● Quick & Easy Installation
● 20kg Maximum Load Capacity per Metre
● 10 Year Warranty
● Delivery: 1 - 2 Business Days

Artiteq
Ceiling Mounted ▪ Supports up to 20kg/m ▪ 10 Year Warranty
Up Rail White Primer 200cm Kit - Maximum Load 20kg/ metre - FASTENER KIT INCLUDED
The Up Rail is the leading ceiling rail par excellence; the rail is especially suitable when used in combination with
concrete. The picture hanging system is clicked into place using clips (3 clips each metre) which are attached to
the ceiling. The beautiful rounded shape of the rail fills the space between the wall and ceiling, therefore the picture
hanging system is discrete and unobtrusive. The maximum bearing capacity of 20 kg/m makes the Up Rail a solid
and reliable hanging system. The rail has a white, primed finish: the hanging rail can be painted in any preferred
colour (for example, in the colour of the wall or ceiling). The Twister hanging wires can be clicked anywhere along
the rail. If a ceiling mounting is required, for example if the walls may not be damaged or because it is not possible
to attach a rail to the walls, the Up Rail is the ideal solution for flexible adornment of the walls.
Installation
The Click&Connect brackets will be screwed onto the ceiling with 40cm distance to each other and the rail track will be clipped on. The brackets are also functioning as a template when marking the drill holes.
Compatible Hanging Wires
The hanging system can be used with all hanging wires listed below. All Twister hanging wires can be fitted and removed anywhere along the picture rail compared to Solid Slider and Slider + Perlon hanging wires which can only be fitted from the end of the hanging rail.
© 2017 EYEVOLUTIONLTD.CO.UK ALL RIGHTS RESERVED